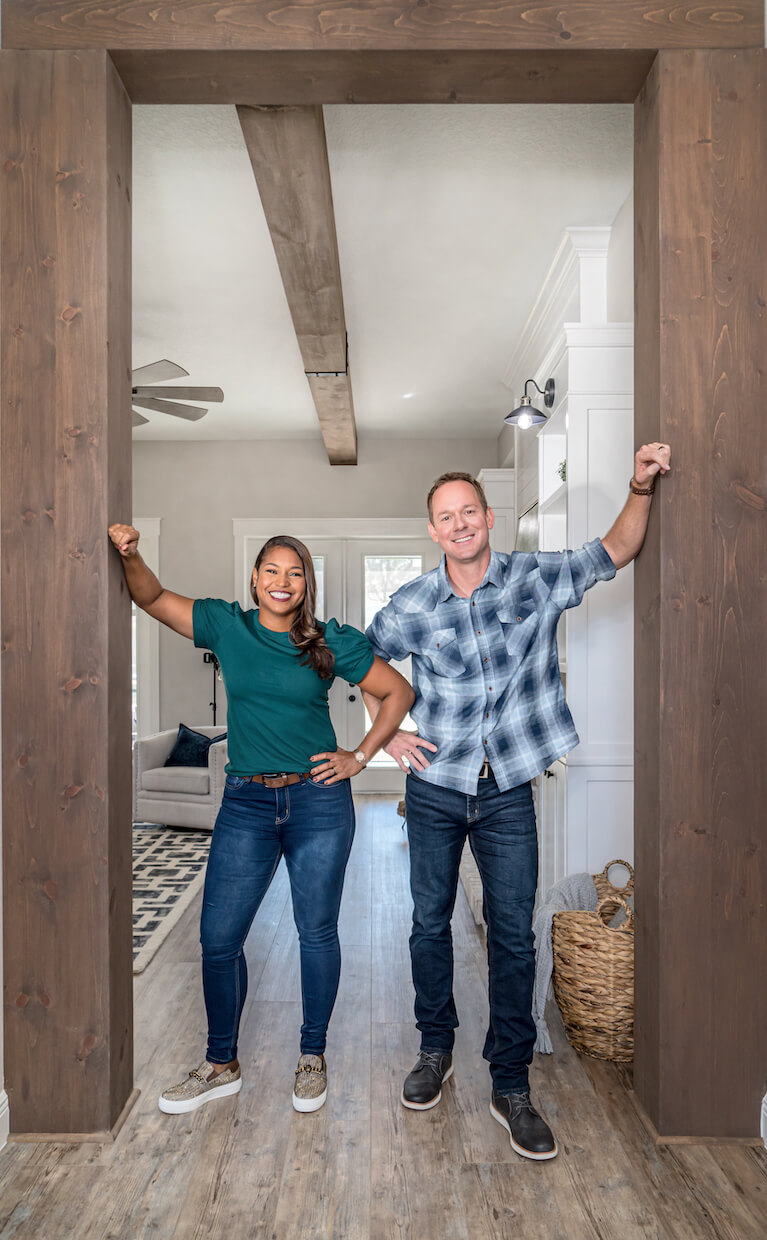 THE DREAM TEAM
Before we started our HGTV adventure with "100 Day Dream Home"…
Brian and Mika first met in high school chorus and it was love at first sight…at least it was for Brian. Even though Brian had a huge crush on Mika he wasn't able to BUILD up enough courage to ask her to homecoming. In fact, Brian had a friend ask Mika to the dance on his behalf because he was too shy. She said…NO!
She would learn later in life just how persistent Brian was.
As a kid, Brian enjoyed working with his hands and was fascinated with BUILDING all types of things. Weekend projects with his dad and grandpa were the norm growing up and hard work was instilled in him at a very young age. During college at the University of Central Florida, Brian spent his Spring breaks and weekends volunteering for Habitat for Humanity where he fell in love with BUILDING homes as he gained lots of hands-on experience. While his friends were getting hammered on the beach, Brian was hammering 2 x 4's. After graduation he started flipping homes on his own. It was the golden age of house flipping…and then it wasn't. The 2008 housing crash left Brian with a lot of know-how, but an empty bank account. While he got back on his feet opening a chain of fitness clubs in Tampa, he crossed paths with the same girl who rejected him from that homecoming dance all those years ago.
Mika spent a decade working in the fitness industry helping clients achieve their personal goals. She loved assisting clients with their plans, holding them accountable and helping them reach those goals. Deciding she wanted a new challenge in life she entered the real estate industry. While it was a completely different field than fitness there were a lot of similarities. She learned that helping people reach their fitness goals and finding their dream home took patience, empathy and hard work. During this transition Mika found a true passion for creating, designing, and assisting clients with finding and building their dream homes. Mika's focus and expertise in new construction and design provide great support and guidance during one of the most important financial and personal decisions a person can make.
Life came full circle when Brian and Mika reconnected 10 years after graduating from high school. This time she said YES! A romance and business were born. While Mika was becoming one of the top realtors in the area, Brian had the itch to get his hands dirty again with construction.
Brian and Mika BUILT "Dirt 2 Design" from the ground up and together they assist clients with everything from rehabs to new construction. They have streamlined the entire process for their clients starting with finding the ideal lot, designing the perfect floor plan, and BUILDING the custom home of their dreams. Mika guides clients through the real state details and design choices, while Brian oversees the construction.
Brian and Mika have a passion for taking blank canvasses and turning them into masterpieces. They are side-by-side with their clients every step of the way from "Dirt 2 Design".
Thanks for reaching out to the Dirt 2 Design Team.
We work within the Tampa Bay area.
Tell us more about your project below.